The North Shore Kart Club 2020 Championship Presentation was held at the weekend at Sydney Motorsport Park. We had a good turn out of racers & families, plenty of nibbles and drinks flowing. The trophy presentation got under way and all our Champions were crowned and congratulations to you all, a full list is below with the Champions picture below also. A big thanks you to the committee and everyone that helped organising our race meetings throughout this challenging year. Pictures of the day have been supplied by Pams Pix and can be viewed in the Gallery Page.
The 2020 Club Champions are:
Cadet 9 – Anthony Saad
Cadet 12 – Luke Powell
KA4 Junior Light – Gabriel Van Jour
KA3 Junior – Jordan Shalala
KA3 Senior Light – Jordan Giannopoulos
TaG 125 Light – Nicholas Caruso
TaG 125 Heavy – Raymond Yeung
TaG Restricted Light – Pietro Lidano
TaG Restricted Medium – Christopher Quinlan
TaG Restricted Masters Light – Stewart Walker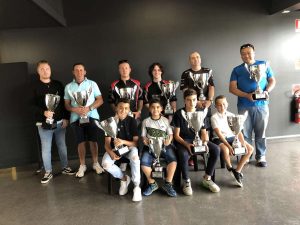 A big thanks again to all that raced at North Shore Kart Club throughout this challenging year, Marshall's, Officials, Helpers, Mum's & Dad's, Family & Friends that helped out and got us through the year. We look forward to racing 2021!